Last week, I made this fluffy vegan lemon blueberry layer cake for a special event. This cake is made with fresh lemon juice and lemon zest, and uses basic pantry ingredients that come together in one bowl. And best of all, nobody could tell that it was a vegan cake!
Why you'll love this vegan lemon blueberry cake
This vegan lemon blueberry cake has a wonderful fluffy texture while still being able to retain its shape and structure as a layer cake. The large amount of lemon juice in this cake not only helps with the fresh flavor of the cake, but it also reacts with the baking soda and baking powder to create a wonderful rise, making the cake light and fluffy without using eggs.
Ingredients you'll need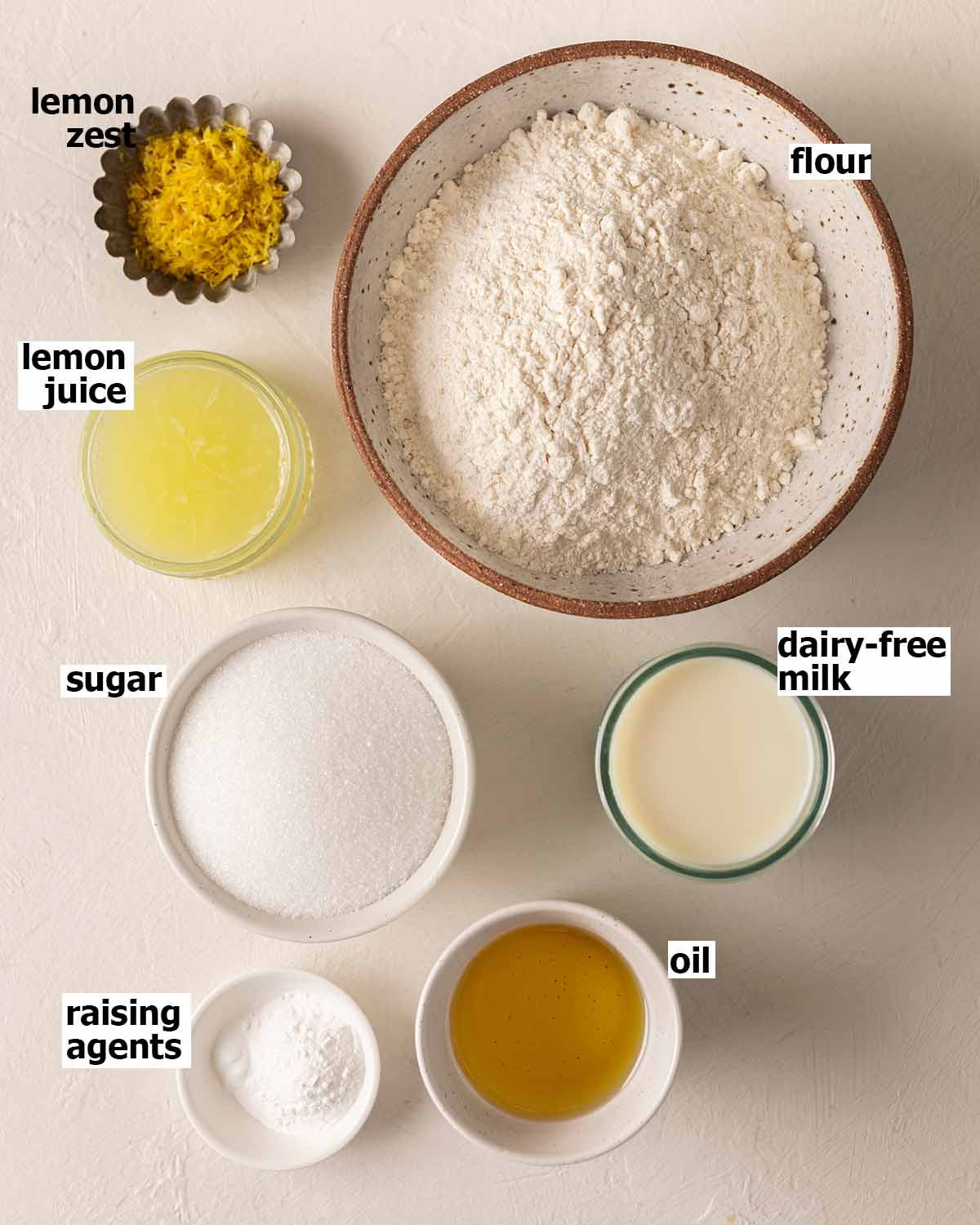 Notes about the ingredients
All-purpose flour: cake flour can also be used as a substitute but I would not recommend bread flour.
Lemon juice and zest: for the best flavor! Not only does the lemon juice act as an acidic agent to create a fluffy rise to the cake, it also provides the freshest lemon flavor. Freshly squeezed lemon juice is the best, but if you're short on time, bottled lemon juice will be just fine as well. I don't recommend using lemon extracts (or most flavor extracts in general) because it's really easy to overdo it and ending up with an artificial tasting flavor.
Sugar: I used maple syrup in this cake to keep it as free from processed sugar as much as possible, however I would recommend using regular granulated sugar so that the cake remains as light in color as possible.
Liquid oil: The oil acts as a substitute for butter that is usually used in regular cake recipes. I'd recommend using avocado oil, a mild olive oil, or a refined coconut oil in your cake.
Double baking agents: We use both baking powder and baking soda in this cake recipe to replace the eggs that are typically used in cake recipes to bind and rise.
The full list of ingredients are included in this post's recipe card!
How to make vegan lemon blueberry cake
One of my favorite parts about this recipe is that the cake batter comes together in one bowl, without needing a hand beater or stand mixer because everything is very easy to mix.
First, pour all the wet ingredients (including the sugar or other sweetener of choice, like maple syrup) to a large bowl and whisk until thoroughly combined. When baking a cake, it's important to mix the wet ingredients thoroughly before combining it with the dry ingredients to ensure the sugars are fully dissolved.
Next, add all the dry ingredients to the same bowl and use a whisk to mix until just combined. The batter will be a little lumpy and that's perfectly okay! Just mix as long as there aren't any lumps of dry flour, the batter will be fine.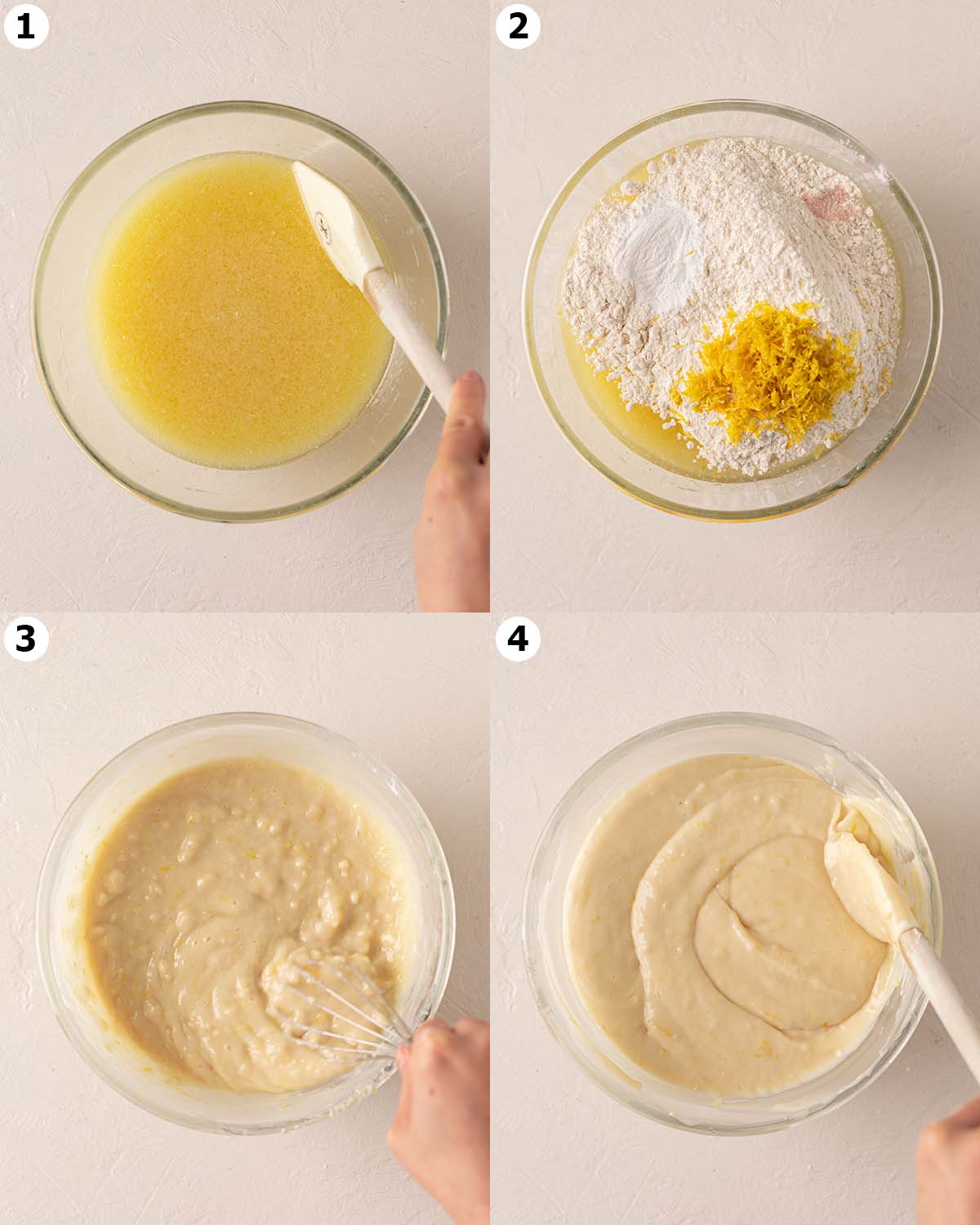 Tips for baking the cake
If you're making this as a layer cake, I recommend dividing the cake batter into 2 evenly sized cake pans so that each layer cake bake evenly. When baked in 8inch round cake pans, this cake should take about 30-35 minutes to bake.
Start checking for doneness around the 25 minute mark, you'll know when your cake is ready when a cake tester comes out clean, or the internal temperature reaches anywhere between 200-210F.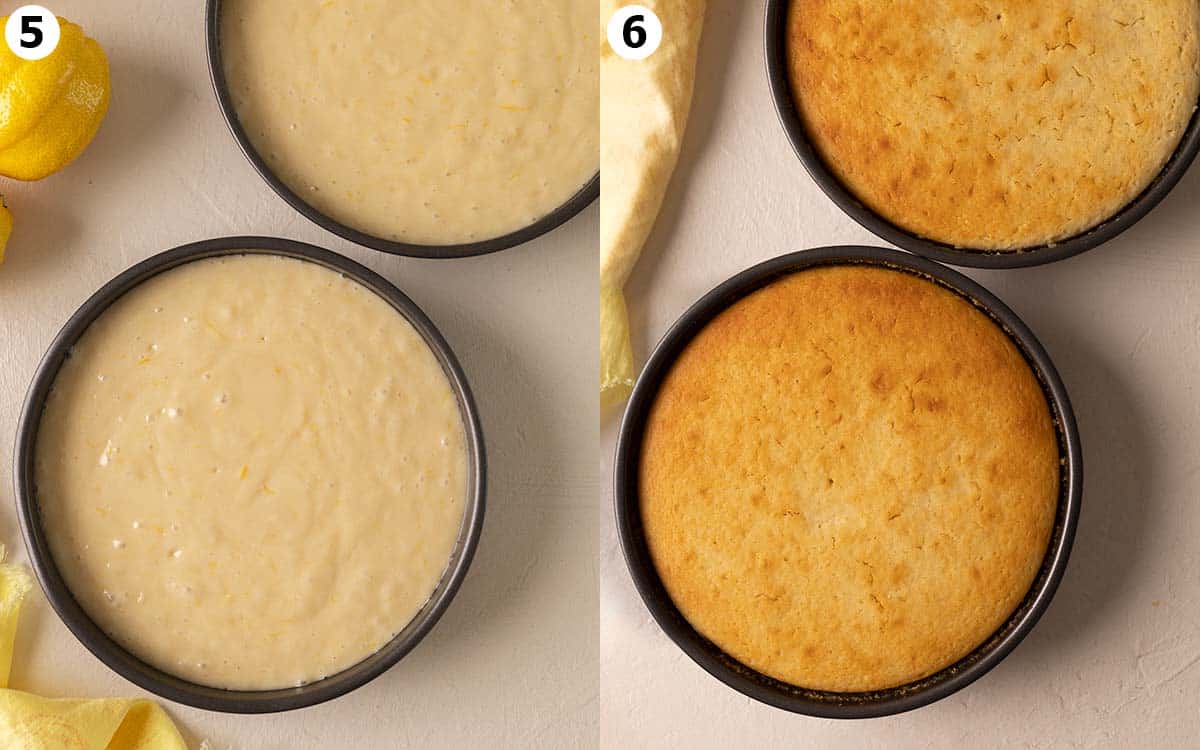 Decorating this lemon cake
This cake is best with a simple lemon buttercream, layered with a blueberry jam! You can also just throw blueberries into the cake batter directly. A refreshing cake like this doesn't need too many decorative objects, I used candied lemons and blueberries for a refreshing and inviting look.
FAQ
Can I add blueberries to this vegan lemon blueberry cake recipe?
Yes definitely! I'd recommend adding 1 ½ cups of blueberries to this recipe for an ideal cake to berry ratio. The recipe works with both fresh and frozen blueberries (without thawing) and you don't even have to coat them in flour before baking. The lemon cake batter is pretty thick, which prevents the berries from sinking to the bottom.
Can I make this recipe in a loaf pan or muffin pan?
Yes you can! However I would definitely half the recipe so that the batter fits in a loaf pan.

Vegan Lemon Blueberry Layer Cake
This vegan Lemon Blueberry Cake is soft, fluffy and delicious! It is layered with a creamy lemon frosting and tart blueberry filling, making it a refreshing dessert for any season.
Ingredients
Lemon Cake
1 1/2

cup

non-dairy milk (almond, oat, soy)

1/2

cup

lemon juice

3

cups

all-purpose flour

1

tbs

baking powder

1

tsp

baking soda

1 1/2

cup

sugar or sweetener of choice

1

tsp

salt

3/4

cup

neutral oil (such as avocado)

1

tbs

vanilla

1

tbs

lemon zest
Blueberry Filling
14

oz

blueberries

1/2

cup

sugar, to taste

1/4

cup

lemon juice (juice of one lemon)
Lemon Frosting
1

cup

vegan butter sticks (Earth Balance or Miyokos)

softened

2-3

cups

powdered sugar, adjust to desired consistency

2

tbs

lemon juice
Instructions
Making The Cake
Create the vegan buttermilk by combining the non-dairy milk with lemon juice and set aside.

Preheat oven to 350F. Grease and line two 8-inch pans with parchment paper.

Sift the flour, baking powder, and baking soda into a large mixing bowl. Then add sugar and salt and whisk to combine. If using a liquid sweetener like maple syrup, combine the sweetener with the wet ingredients in the next step.

Stir the oil, vanilla, lemon zest, and sweetener (if subbing sugar) to the vegan buttermilk mixture. Pour everything into the flour mixture and whisk until combined. Don't overmix or your cakes will be dense!

Divide the batter evenly between the two cake pans and bake for 30 minutes or until a cake tester comes out clean.

Let cool completely. If making ahead, wrap each cake in plastic wrap and refrigerate at least 1 hour until chilled.
Blueberry Filling
In a saucepan, combine blueberries, sugar, and lemon juice. Bring to a simmer and cook over medium heat until the blueberries have softened and bursted, thickening into a sauce. This should take about 8-10 minutes. Allow the filling to cool so it can thicken up more before using it on the cake.
Lemon Frosting
In a mixing bowl, beat the vegan butter with a handheld mixer until it is creamy and fluffy. Sift in the powdered sugar and add in the lemon juice. Mix again with the mixer until creamy and well combined. Adjust the amount of powdered sugar to reach desired consistency. You can make the lemon frosting ahead of time, but be sure to take it out of the fridge and whip it again to get the fluffy texture before decorating.
Cake Assembly
When the cakes have completely cooled, place one layer on a serving plate.

Spread or pipe around ¾ cup of the lemon frosting on the cake. Top that layer with blueberry jam, and place the remaining cake on top.

Spread around 1 ½ cups of frosting around the sides. And decorate as desired.

Store the cake in an airtight container in the refrigerator. Allow the cake to come to room temperature 30 minutes – 1 hour before serving. Leftovers will keep in the fridge for 5 days or in the freezer for 1 month.
Notes
If using spreadable margarine, you may need to add more sugar or less lemon juice to get your buttercream to the right consistency.